COURSE MS Excel
Excel Basics - Building your First Spreadsheet
Learn the basics of using Microsoft Excel so you can build your first Spreadsheet

Created by
Tom Fragale
About this course
Microsoft Excel is the main program that people use to build spreadsheets on their computer, phone, or device. It is essential in many office jobs, and it is invaluable skill to learn.

It can be confusing and overwhelming , as there are many things that it can be used for.
This course will show you how to get started with Excel , and it will show you all of the important skills you need to build your first spreadsheet , and many spreadsheets after that.

The course topics include:

Tour of the Screen
Entering Text
Auto Fill / Speed Fill
Saving the spreadsheet
AutoSum
Basic formulas
Relative Formulas
Formatting the spreadsheet
Managing the Sheets
Linking the Sheets
Introduction to Functions
Absolute Formulas

There is a sample spreadsheet included with all of the finished examples, so you can use that as an excellent learning tool.
1.5 hours on-demand video
Certificate of completion
---
---
100% moneyback guarantee
If you cancel within 10 days and you're not completely satisfied, we'll give you all your money back. No questions asked.
Training 2 or more people?
Get your team access to 3,184 top CPE QAS for CPAs courses anytime, anywhere.
videosite-excel basics
47s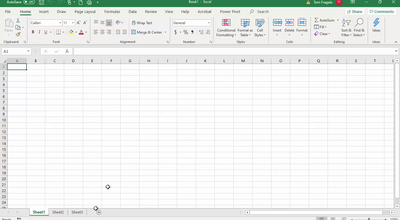 Excel Basics - Building your first spreadsheet
1h 30m 4s
Learn from the best

Microsoft Certified Trainer with over 20 Years of Training Experience, and over 35 years in IT overall
Tom Fragale is a computer professional with over 30 years of professional experience. He is a Microsoft Certified Trainer, a Microsoft Certified Office Master, and a Microsoft Certified Expert in Word and Excel., and a Microsoft Certified Specialist in Access, Outlook, and PowerPoint. He has trained over 30,000 business people in on-line webinars, public seminars, and on-site training. His clients include many Fortune 500 companies, government agencies, military bases, and companies large and small across many industries, including insurance, manufacturing, banking, pharmaceutical, education, retail, etc. He started his career as a database application programmer and has served as a consultant and project manager on many successful projects. His topics of expertise include: Access, Excel, Word, PowerPoint, Outlook, Crystal Reports, SQL Server, Visio, QuickBooks, and SharePoint, among others. His passion is training people and helping people get the most out of their computers, and he is a published author having written a book on Microsoft Access. He graduated in 1988 from LaSalle University in Philadelphia, PA with a BA in Computer Science.