COURSE Accounting Software
25 Must-Know Tips for using QuickBooks Desktop
How to be more productive in using QuickBooks desktop.

Created by
Tom Fragale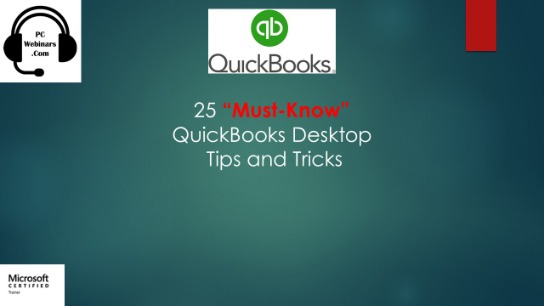 About this course
QuickBooks has become a staple of small businesses. Whether you are the business owner, accountant or the office manager you are likely going to need to know the ins and outs of QuickBooks. You can have the best products or services in the world, but taking care of the business side of things is often times where small businesses fall flat. Mistakes can cause cash-flow problems, late bills, missed invoices, and even tax issues. All of which can have critical consequences. QuickBooks will make the job of tracking your important financials much easier, but like any tool, it is only effective when you know how to use it. This webinar will walk you through how to start getting the most out of your QuickBooks.

Topics include:
1. Chart of Accounts
2. Adding a bank account
3. Adding a credit card account
4. Adding Account Numbers
5. Merging Accounts
6. Subaccounts
7. Show Balances
8. Adding Items
9. Turning on Inventory
10. Adding Vendors
11. Adding Customers
12. Adding Employees
13. Entering Time for Employees
14. Entering mileage
15. The AR cycle
16. Estimate
17. Sales Tax
18. Applying A Credit
19. The AP Cycle
20. Purchase Order
21. Memorized Transactions
22. Adding manual Entries
23. 1099
24. Reports
25. Changing Reports
Certificate of completion
---
---
100% moneyback guarantee
If you cancel within 10 days and you're not completely satisfied, we'll give you all your money back. No questions asked.
Training 2 or more people?
Get your team access to top CPE QAS for CPAs courses anytime, anywhere.
Section 1. Full Course-Part1
25 Must Know tips for Using QuickBooks Desktop 1-5
16m 11s
25 Must Know tips for Using QuickBooks Desktop 6-11
19m 49s
25 Must Know tips for Using QuickBooks Desktop 11-16
32m 21s
25 Must Know tips for Using QuickBooks Desktop 16-20
26m 46s
25 Must Know tips for Using QuickBooks Desktop 21-25
30m 43s
Learn from the best

Microsoft Certified Trainer with over 20 Years of Training Experience, and over 35 years in IT overall
Tom Fragale is a computer professional with over 30 years of professional experience. He is a Microsoft Certified Trainer, a Microsoft Certified Office Master, and a Microsoft Certified Expert in Word and Excel., and a Microsoft Certified Specialist in Access, Outlook, and PowerPoint. He has trained over 30,000 business people in on-line webinars, public seminars, and on-site training. His clients include many Fortune 500 companies, government agencies, military bases, and companies large and small across many industries, including insurance, manufacturing, banking, pharmaceutical, education, retail, etc. He started his career as a database application programmer and has served as a consultant and project manager on many successful projects. His topics of expertise include: Access, Excel, Word, PowerPoint, Outlook, Crystal Reports, SQL Server, Visio, QuickBooks, and SharePoint, among others. His passion is training people and helping people get the most out of their computers, and he is a published author having written a book on Microsoft Access. He graduated in 1988 from LaSalle University in Philadelphia, PA with a BA in Computer Science.